Update 1.5.1 is here, and it's a big one!! You can now follow the magic path all the way through many new quests and areas, right up to launching into space! This means that the entire starting planet is now complete, besides a few side quests and optional features we still want to add.
Alongside this major update to the game, we have a very exciting new trailer to share with you! Made by the talented M. Joshua and scored by our very own Chase Bethea, we are thrilled with how it came out!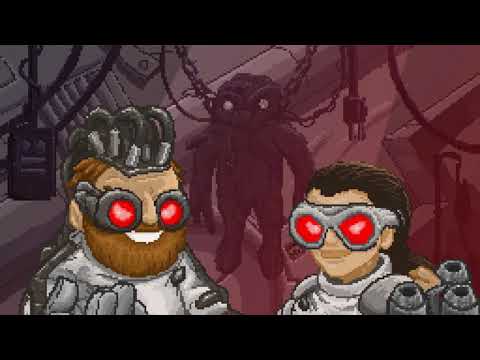 What do you think? We hope you love it as much as we do!
In other news, back in late August/early September we showcased Aground at PAX West, which was an amazing experience. We were a part of the Indie Megabooth, and had a very steady crowd of gamers, press, and industry professionals stopping by to chat and try out the game. Pictures from the event are here (featuring our Miner and Alchemist cosplays!):
https://www.flickr.com/photos/166774367@N06/sets/72157695274883630/
.
A huge thank you to everyone who came by at PAX, especially the awesome streamers and Youtubers we met, who have released so many great videos which have helped to spread the word about the game - including
SplatterCatGaming
,
Wanderbots
,
RufioGuy
, and many others!
For backers at the Farmer tier or above, Backer Polls have just begun! The first question we are asking for your input on is a big one - what should we work on next? Spacefaring? Or Multiplayer? If you are a backer at the Farmer tier or above, check your backer info page for access to the form - if you have any trouble, let us know!
Lastly, Merchant-tier backers (except international) should have received their beautiful Aground t-shirts by now! International backers, sit tight - we are still working on yours and it shouldn't be too much longer now.
The full changelog for this update is as follows:
Added a new magic island with new bosses, enemies, NPCs, sub-areas and structures. Rest in the purple hut after defeating the Old One to start these quests (and check out the place the Old One was defeated).

Added many new familiars and new types of nets to catch them.

Added spellbooks and a spellcasting skill.

Added a magic spaceship equivalent, and the quests to get it.

You can now mine the second layer of magic island (although we are still planning on adding caves there later).

The following changes affect the demo as well:
Added an indicator when the smelter/kitchen/pen/farm have items ready.

Allowed some weapons/items to work underwater.

Added spider familiar.

Some magic structures can now be uprooted and moved.

You can now collect items while riding the dragon (like helium sacs)

You can now aim dragonfire manually while riding a dragon by using up/down while holding attack.

Many smaller fixes and improvements, including color changes to the background art.

For Modders:
Added < loadAfter > tag to the mod metadata. This works just like (forcing the labelled mod to load first), but won't cause the mod to fail to load if the labelled mod is missing.

Added the evalXml function. This parses the passed argument string as xml and then runs it after the current action block completes. Useful for dynamic xml generation.

Added setGlobal and getGlobal, to manage global variables that can be used between saves and in different scopes. These are not saved, and clear when the game is restarted (or you set them to null).

Added setPlayer and changePlayer functions. setPlayer changes the player to an already created player object, and changePlayer changes the player to a new object with the passed id. These are dangerous functions.

Enjoy, and as always, don't be shy if you have any questions or feedback - we are always happy to hear from our players. And don't forget to join the social channels below if you haven't already:
Discord
Reddit
Twitter
Facebook