Two small-ish updates before I move on to the Magic Island major update, but they include some cool new items and features!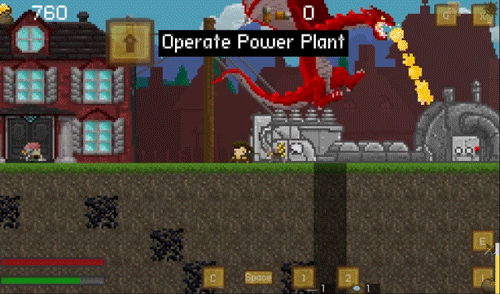 The full changelog is as follows:
New Items Added Land Mines (powerful traps), Great Armor (higher defense), Map (buy in the Sunset Haven market, it'll show you your surroundings), Minecart (easy transportation of ores), Shovel (fills the tile below you to remove holes) and the Crowbar (pries up minecart rails).
NPC Auto-Collection NPCs will now collect items for you even when you are away from the starting island (slower than normal, but they don't stop). Enemies will also spawn in locations when you're away.
Added Town and Desert BG The science island town now looks a little less like a ghost town.
Improved Smelter UI Smelter items are now grouped, and it looks a lot cleaner for smelting (or cooking) tons of items at once.
You can now use an Adult Dragon to power the power plant once it's repaired. It looks cool, and can turn Steaks into power!
You can now rest in your boat, saving the game and restoring 33% of your stamina. You also need 400 rations to make the first trip to the science island (enough for a round trip of sailing). This will keep players from getting stuck on the science island before they find the titanium. I also made titanium (and iron) a little more common, so that first quest isn't too difficult if you go unprepared. The boat inventory management was also improved for transferring to/from your inventory or storehouse.
A bunch of minor improvements, like changing enemy speed to make melee combat more feasible, minecart rails were made cheaper and batteries draining one at a time.
Fixed some bugs, including the looping sound bug (drill, elevator).
The Kickstarter just reached 50% funded! Keep sharing the project, and I have some good stretch goals planned if we reach 100% funded early!
Enjoy, and as always, let us know if you have any feedback!